NEWS RELEASE
SmallHD
www.smallhd.com
Effective: November 17, 2017

To Download Below Photo in High Res Click Here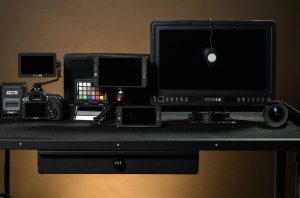 SmallHD's OS3 Enables Auto-Calibration, Custom False Color & Spot Metering
SmallHD announces the release of OS3, a free Operating System upgrade for its family of on-camera and production monitors that offers new false color and waveform tools, a new battery meter and more, including computer-free integration of the SmallHD Color Probe.
Placed in front of any current SmallHD monitor, the Probe reads the test output on the screen to check and correct its calibration. "With OS3, for the first time users can calibrate their on-camera and production monitors without using a computer," said SmallHD CEO Wes Phillips. The SmallHD Color Probe's USB cable plugs directly into the monitor's USB jack and calibration is achieved in a few minutes.
The new operating system also showcases SmallHD's focus on updating its false color and waveform exposure tools to make them much more customizable. "We've added the capability to create up to 10 customizable IRE ranges and assign specific colors to the ranges," notes Phillips. "It allows the user to choose what's important in the exposure, and identify problem areas faster than ever."
For those who prefer to use waveform to compose an image, the new OS adds spot metering to an already extremely customizable waveform. The spot meter indicates the exposure level to a particular area of an image without the psychedelic appearance false color can create. It's particularly good for exposing faces.
A new image gallery is included in OS3. It provides the ability to quickly access and organize screen captures and other images on an SD card by showing a thumbnail preview of each image file. Images can now be previewed with or without a video signal.
Additionally, a major upgrade to the battery meter makes its debut, adding the ability to read Sony NPF L-series batteries. Plus it has been made more intuitive by changing the readout from voltage to a percentage of charge remaining, together with the inclusion of a warning signal when the power remaining is critically low.
The OS3 Operating System upgrade and the SmallHD Color Probe are engineered to work with SmallHD's 500, 700 and UltraBright and Focus series on-camera monitors; as well as the 1300, 1700, 2400 and 3200 Series SmallHD Production Monitors.
SmallHD's OS3 firmware can be downloaded free at http://www.smallhd.com/support/firmware/smallhd_OS3_firmware.zip
The SmallHD Color Probe is currently available from the SmallHD store and authorized SmallHD dealers for $299.99. For more information, visit http://store.smallhd.com/store/500-accessories/Color-Probe-Kit_2
###
About SmallHD
Founded in 2009, SmallHD has made a name as the leading innovator of on-camera monitoring solutions for professional cinematographers, videographers, and photographers worldwide. Creators of the world's first high definition on-camera monitor, SmallHD continues to push the envelope of what's possible in an on-camera, studio and production displays by combining advanced cutting-edge technology with accessible pricing.
###
For additional photos and other news, please go to www.aboutthegear.com
Information Prepared by Lewis Communications: susan@lewiscommunications.net