News Release
DoPchoice GmbH
Danklstr. 4 · 81371 München · Germany
Phone: +49 89 95449293 · Fax: +49 89 17927731
info@dopchoice.com
www.dopchoice.com
Effective: June 1, 2018
To download photos in high res click images below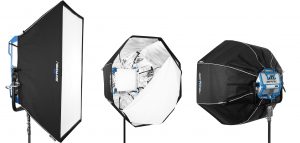 DoPchoice unveils new light softening and directing and tools to enhance the ARRI SkyPanel S360 and S30 lighting fixtures.
For the SkyPanel S360, there is the new 6'x6' Snapbag® softbox. Customized for ideal fit, it is lightweight and packs up small for transport. Set up is fast due to its integral snap up frame. There is no complicated speed ring or overhead frame needed. Plus, because it mounts directly to the SkyPanel S360, there's no set-cluttering stand required to hold the Snapbag.
Fully built up, the 6'x6' measures 6'/183cm x 6'/183cm x 2'5"/75cm deep, yet weighs just 12.7-lbs/5.8kg. Like all DoPchoice Snapbags, the 6'x6' employs a special reflective fabric to intensify light output. In addition, a front diffusion panel swiftly attaches right on the front for extremely even light distribution.
The octagonal-shaped Octa 4 Snapbag is designed just for the SkyPanel S30. This 4-foot, diameter space-saver attaches directly to the front of the S30 thanks to DoPchoice's ingenious Rabbit-Ears Mini quick mounting system, cutting out an extra stand. Due to its exclusive fabrics and geometric shape, light output is enhanced, yet soft and pleasing. It may be used with or without the included front diffusion panel. At 4'/123cm x 4'/123cm x 2'1"/64cm deep, and weighing 8.37-lbs/3.8kg, Octa 4 is a go-anywhere companion for the SkyPanel S30.
Booth 6'x6' and Octa 4 Snapbag systems have the option of custom size Snapgrids when more light direction is desired. The self-unfolding and self-tightening light controlling grids (40° beam angle) quickly attach via hook and loop, directly to the front of the Snapbags, so there's no extra grid stand.
Manufactured by DoPchoice and The Rag Place, these accessories for the SkyPanel 360 and S30 are available through ARRI or their authorized dealers.
###
Information Prepared by Lewis Communications: susan@lewiscommunications.net
For Additional News and Photos visit aboutthegear.com