NEWS RELEASE
BB&S Lighting and The Light Bridge
www.bbslighting.com
Effective: April 9, 2018
Click photos to download in high res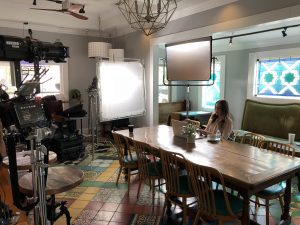 Art and technology meet to realize vision of famed cinematographer
See it at NAB in C8549
BB&S Lighting, makers of high TLCI lighting fixtures including their Area 48, Pipelines and Force 7 LEKO are representing a new concept in lighting method from The Light Bridge.
Conceived by famed Austrian cinematographer Christian Berger, The Cine Reflect Lighting System CRLS is a new style of painting with light and shadow that pairs proprietary high efficiency reflectors with an optimized source light to make diffused light easier to control and modulate. What makes the CRLS system unique is its ability to produce a natural look by reflecting illumination from a light source that produces a concentrated beam of light to approximate a ray produced by the sun.
At the heart of the system is the CRLS C-Reflector array that comes in four different levels of reflectivity, ranging from minimum diffusion to maximum diffusion. The specially designed reflectors utilize a precision aluminum-coated, smoothly polished, wrinkle-free surface that reflects up to 97% of the light hitting them, with 100% color rendering. They are characteristically a spill-free light source, reducing the need for flags and frames. Made to blend into every available light situation, they come in 4 diffusion grades and in 5 sizes: 7×7 cm, 15×15 cm, 25x25cm, 50x50cm, and 100×100 cm. A variety of kits and elegantly designed and executed grip and mounting solutions are available.
While perfecting the system, The Light Bridge tried out all modern lighting technology to obtain the optimum source lights and found that top quality large output lights including Fresnels, PARs, LEKOS, etc. are all are compatible with the CRLS method.
Their search for the best indoor source was satisfied when the BB&S new Force 7 LED LEKO became available. Focusable without double shadows or hot spots, output is smooth and even edge-to-edge. Equivalent to a 750W output, it draws just 185W at maximum. With an external, yoke-mounted 48V power supply, the Force 7 exhibits no color shift dimming all the way to zero, maintaining its color-perfect 97 CRI. With a compact footprint it supports the Light Bridge's fit-anywhere philosophy.
The CRLS system has been successfully used on a multitude of productions. Attendees at NAB can see the system in action in booth C8549.
For more information about the Light Bridge CRLS system visit thelightbrige.com. The CRLS system is available in the US from BB&S Lighting at bbslighting.com
###
Information prepared by Lewis Communications: [email protected]
For additional photos and more news visit aboutthegear.com.