NEWS RELEASE
Effective: July 8, 2016
BB&S New Area 48 Studio Offers Extremely Precise Dimming
In IBC Stand 12.A41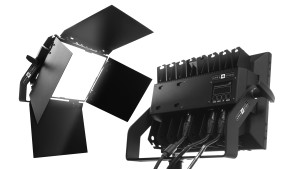 At the 2016 IBC convention and exhibition, BB&S Lighting will feature a new Studio model of its Area 48 Soft Remote Phosphor lighting fixture.
The Area 48 Studio provides ultra-precise dimming throughout the entire dimming range, even in the last 5% where other LED lights fall off. The first of its kind, this feature is especially useful for sound stages, television studios, classic concert halls, theatres, and motion capture studios where extremely smooth dimming through the entire range, from 100% to zero is essential. The new 48V Area 48 Studio operates silently due to the system's fan-less cooling.
The fixture retains the form factor and features of BB&S' amazingly compact Area 48 remote phosphor technology, which greatly improves upon the color rendering, consistency, and light output of traditional LED lighting fixtures. The system's color rendering accuracy is over 98 TLCI, with HD-friendly light output comparable to a 1K traditional soft light, yet it weighs just 3.6 kg/7.9 pounds.
Moreover, the phosphor panels themselves are interchangeable, allowing you to quickly change the fixture from Daylight to: Tungsten, Chroma-Green, Chroma-Blue, new 10,000 K and more—all in seconds without tools.
The Area 48 Studio draws just 122 Watts at maximum power output. The 48-volt power supply comes mounted directly on the yoke.
The unit includes the standard BB&S 4-channel Control of: 8-bit, 16-bit, strobe, and manual dimming, as well as ON/OFF. Every Area 48 is equipped with integrated barndoors. BB&S also offers optional DoPchoice light shaping tools including grids and soft boxes for even more control.
For more information on BBS lights in the Americas visit: www.bbslighting.com or in Europe visit: www.brothers-sons.dk
###
About BB+S Lighting
BBS is a leading LED lighting manufacturer and product development company in the entertainment lighting industry. The Copenhagen based company specifies, develops, produces and markets high-end LED lighting for video, television broadcast studios, motion picture, live performance, harnessing technical and design skills to deliver innovative, high quality and cost-effective products BBS is the pioneering developer of the remote phosphor Area 48 LED light.
####
Information prepared by Lewis Communications: susan@lewiscommunications.net
For Additional News and Photos visit aboutthegear.com