News Release
DoPchoice GmbH
www.dopchoice.com
Effective: October 2, 2017
DoPchoice Intro's Light Shaping Gear for ARRI Skypanel S360-C and S60
To Download Below Photo in High Res Click Here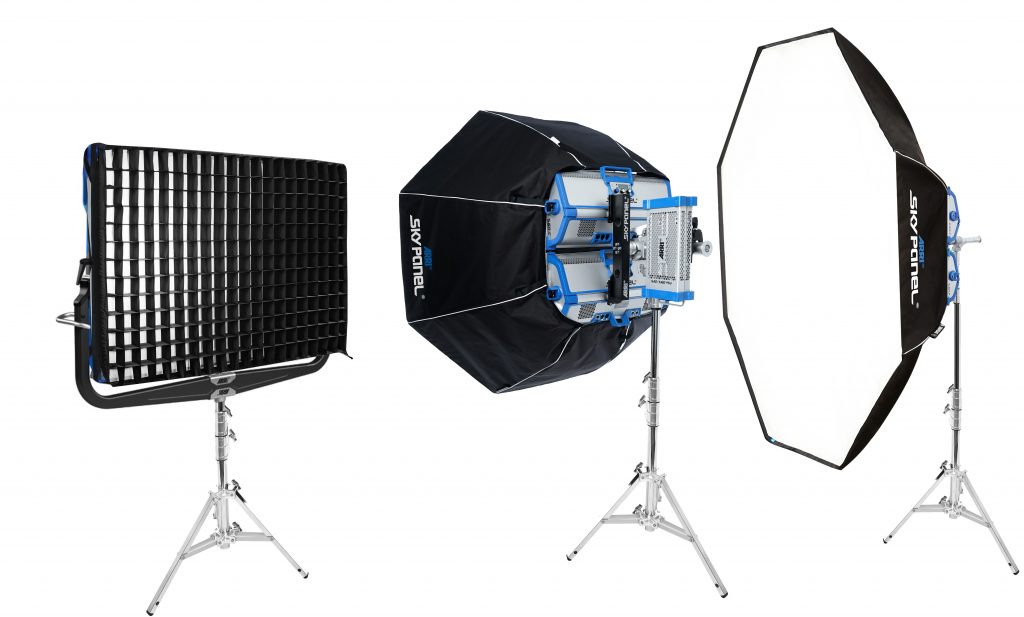 Just in time for the latest additions to the ARRI SkyPanel range introduced at IBC 2017, DoPchoice unveils an entire line of light directing and softening equipment. Designed to enhance the amazing new S360-C, and other models, there's the all-new Snoot for spill-light reduction, Snapgrid® for light direction, and Snapbox™ for light softening. The octagonal shaped Octa 5 and Octa 7, and popular Snapbag® softboxes, are now available in more sizes just to fit the S60. The sturdy Double-Bracket gangs a pair of ARRI S60 SkyPanels. The accessories require no additional hardware for mounting.
"We pride ourselves on helping filmmakers and broadcasters gain the most creative light control, so our team is excited to have been called on to custom design and manufacture products for the new SkyPanel S360-C," says Stefan Karle, Founder and Managing Director of DoPchoice in Munich. "Best of all, they are ready for shipment through ARRI, in time for the S360-C delivery."
The new Snapbox instantly creates a 5-sided rectangular light box, giving users the opportunity to encase their light fixture. The 15-inch thick Snapbox can work with a single S360-C, or more of the fixtures for a powerful, diffused light. It attaches to the front of the S360-C and comes with diffusion and blackout for light control.
Constructed of rugged fabric, Snoots shade the camera from spill light coming off the sides of the fixture. With a Snoot, the S360-C can be placed above or beside the subject without spill light affecting the camera.
If more directed light is needed, there's DoPchoice's popular Snapgrid. Sized to fit ARRI's new light, the self-unfolding and self-tightening light controlling grid (40° beam angle) quickly attaches via hook and loop to the front of the Snapbox, the Snoot or to the panel itself.
In addition to light softening and directing tools, DoPchoice's Double-Bracket made of extremely high tensile strength aluminum, gangs two S60 Skypanels together for twice the output.
As an option for producing an even softer light, the Octa 5 (five feet diameter) and Octa 7 (seven feet diameter) soft boxes can house the S60 as well as smaller SkyPanel fixtures. Octas can be deployed with or without front diffusion.
These accessories for the SkyPanel S360-C and S60 are available through ARRI or their authorized dealers. For more information on the S360-C visit http://www.dopchoice.com/hersteller/arri/#jumpto-s360 and S60 visit http://www.dopchoice.com/hersteller/arri/#jumpto-s60-bracket.
###
Information Prepared by Lewis Communications: susan@lewiscommunications.net
For Additional News and Photos visit aboutthegear.com