NEWS RELEASE
DoPchoice GmbH
Danklstr. 4 · 81371 München · Germany
Phone: +49 89 95449293 · Fax: +49 89 17927731
info@dopchoice.com
www.dopchoice.com
Effective: August 22, 2017

To download the below photo in high res click here.
DoPchoice Intro's SNAPBOX™ Light Controller for Flex and Tile Style Lights
See them First at IBC in LCA Stand 12.D39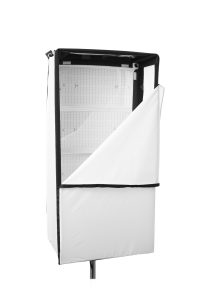 DoPchoice, makers of light shaping tools for LED fixtures, announces that it will unveil its no hassle SNAPBOX™ soft box system for flex-, tube-, mat-, and light-tile style LED fixtures at IBC 2017. The rectangular SNAPBOX opens and deploys in seconds to create a smooth diffusion box that mounts over standard frames to soften the light emitted from the raw LEDs.
As flexible LED panels, light tiles and tube-shaped fixtures become increasingly popular due to their convenience and ability to expand to a variety of sizes, it becomes more essential to provide soft boxes and grids to turn the bare LEDs into fully professional lighting fixtures with the most desirable output. SNAPBOX was designed with just that task in mind, eliminating jerry-rigged on-set solutions.
DoPchoice uses its patented self-tightening Snap Technology™ so that SNAPBOX quickly unfolds and instantly deploys into a rectangular box, ready to offer more light control. Front and sides feature quick hook & loop attachment of diffusion fabrics. The front diffusion panel is made of popular Magic Cloth™ stretched tightly across the rectangular front for even and optimum diffusion.
The sides are ready to control spill via removable fabric panels. Each comes with two sets of interchangeable side panels. One is made of Magic Cloth to provide ambient light and the second is an opaque black/metallic fabric with a reflective layer on the inside to amplify light and a black layer that cuts all spill.
SNAPBOX may be easily mounted to the light source. Its corner eyelets are handy for flying the system overhead on safety cables. Or, the corner elastic straps can be stretched over a standard Frost Frame/flag, and mounted with regular grip equipment.
DoPchoice Founder and Managing Director Stefan Karle explains, "New SNAPBOX provides full control of your soft light, and allows a quick change from direct and/or ambient light. Better yet, DoPchoice SNAPGRID systems can be used on the face of SNAPBOX to further control spill light."
The SNAPBOX is available in three different set-up sizes to fit a variety of brands including: LiteGear, Alladdin, BB&S, Cineroid, Fomex and more. SNAPBOX 4×2 measures 123cm long, 62cm wide and 32cm high, and weighs just 2.75kg/6-lbs. The 4×4 is 123cm long by 122cm wide by 32cm high with a weight of only 3.7kg/8.1-lbs. The 8×4 reaches 209cm long, 122cm wide, and 31cm high, yet weighs barely 8kg/17.6-lbs. All are a slim 30cm/11.8 inches deep.
Like the full DoPchoice line, SNAPBOXES fold-up fast for easy storage and shipping. For more information about SNAPBOX visit http://www.dopchoice.com/products/snapbox/, and the complete DoPchoice line including SNAPBAGS®, SNAPGRIDS® and BUTTERFLY GRIDS visit www.dopchoice.com.
Watch the below video here https://www.youtube.com/watch?v=KYAIop54CZI or simply click on the play button.
###