NEWS RELEASE
K-Tek
1384-F Poinsettia Ave
Vista, CA 92081
(760) 727-0593
www.ktekpro.com
Effective: July 26, 2017

Click here to download the below photo in High Resolution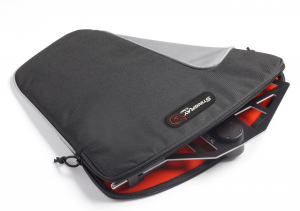 This flat envelope-style sleeve with a 2-way zipper contours to the fin antenna. Constructed of high strength ballistic nylon with internal semi-rigid panels, the antenna-shaped protector provides sides that measure 15" x 14.5" (38cm x 37cm) at its longest and widest points, with a curved top. Zipped shut, the content is safe inside. A top nylon loop makes it handy to carry, store or attach to sound carts.
This sharkfin bag features a handsome black and grey exterior with easy-grip grey piping and a bright orange-colored cushioned interior.
The new Stingray Antenna Sleeve (Part No.: KSFA1) is listed at $35 each. For more information about K-Tek visit www.ktekpro.com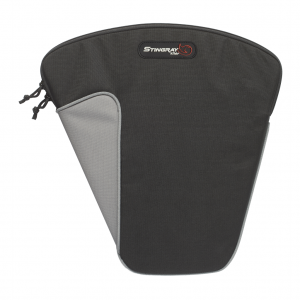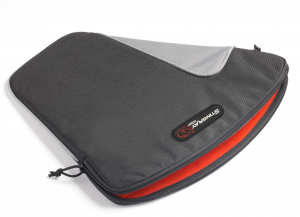 ##
About K-Tek
Since its' founding in 1996 by Manfred N Klemme, K-Tek has supported the audio world with innovative tools to make the sound engineer and boom operator's jobs just a bit smoother. With a passion for audio, Manfred's first mission was to design and manufacture a line of U.S. made boom poles that were lightweight, strong and so audio friendly that folks took notice. Mission accomplished: in 1999 K-Tek won a Technical Achievement Award from the Academy of Motion Picture Arts and Sciences for the Klassic Boom Pole. Since then, K-Tek has earned many other awards and the reputation of making elegantly designed and beautifully constructed, audio-centric products including: Klassic & Avalon graphite and aluminum boom poles, shock mounts, Shark Antenna mount and Fuzzy & Topper windscreens. K-Tek's growing Stingray line includes, Sound mixer bags, Waist Belt, a back-saving Audio Harness, plus accessory bags and pouches and bag accessories. Visit: www.ktekpro.com.
##
Information Prepared by Lewis Communications: press@lewiscommunications.net
For Additional News and Photos visit aboutthegear.com