K-Tek
1384-F Poinsettia Ave
Vista, CA 92081
(760) 727-0593
www.ktekpro.com
Effective: Oct 20, 2017

To Download Below Photo Click Here
K-Tek Introduces Stingray Boom Sleeves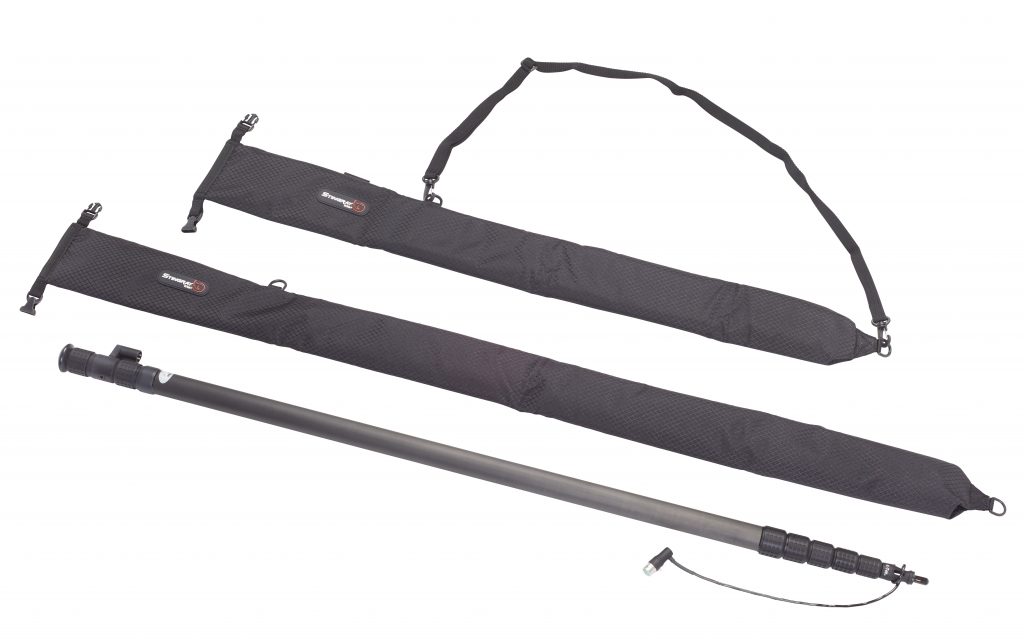 K-Tek's extensive Stingray line of bags and accessories for boom operators and sound mixers offers the new Boom Sleeves for easy transport of popular mic booms. These padded bags are ideal for carrying K-Tek and other brands of boom poles to location, and offer added protection when packed inside hard cases along with other gear for long distance transport. Between gigs they provide safer and more organized storage.
This padded multi-layer sleeve features a smart foldable design so users can extend or contract the carrier to fit various poles up to 52" in collapsed length. The bag's exterior is made of black heavy-duty nylon with a triple layer laminated core of internal padding, lined with K-Tek's famous Stingray orange interior fabric.
A large opening at one end features a fold-over closure that secures with a buckle to adjust the sleeve length for shorter booms. The fold-over design and D-Ring at the other end, are handy for mounting, hanging and storing. An extendible black nylon shoulder strap attaches to two D-Rings via secure easy-snap clips.
The new Stingray Boom Sleeves are available in two sizes: one for booms up to 52" collapsed (Part No.: KSBS52) listed at $45 and a second (Part No.: KSBS35) listed at $35, for boom poles that collapse to 35" or less.
For more information about K-Tek visit www.ktekpro.com
##
About K-Tek
Since its founding in 1996 by Manfred N Klemme, K-Tek has supported the audio world with innovative tools to make the sound engineer and boom operator's jobs just a bit smoother. With a passion for audio, Manfred's first mission was to design and manufacture a line of U.S. made boom poles that were lightweight, strong and so audio friendly that folks took notice. Mission accomplished: in 1999 K-Tek won a Technical Achievement Award from the Academy of Motion Picture Arts and Sciences for the Klassic Boom Pole. Since then, K-Tek has earned many other awards and the reputation of making elegantly designed and beautifully constructed, audio-centric products including: Klassic & Avalon graphite and aluminum boom poles, shock mounts, Shark Antenna mount and Fuzzy & Topper windscreens. K-Tek's growing Stingray line includes, Sound mixer bags, Waist Belt, a back-saving Audio Harness, plus accessory bags and pouches and bag accessories. Visit: www.ktekpro.com.
##
Information Prepared by Lewis Communications: susan@lewiscommunications.net
For Additional News and Photos visit aboutthegear.com