NEWS RELEASE
K-Tek
1384-F Poinsettia Ave
Vista, CA 92081
(760) 727-0593
www.ktekpro.com
Effective: June 14, 2017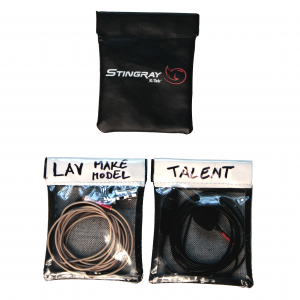 K-Tek's Stingray line offers another handy accessory for sound mixers and boom operators. New Stingray Lav Pouches are designed to keep lavaliere microphones and other small accessories safe, organized, and easy to view.
This tiny package lets users keep each lavaliere's coil flat and organized. Measuring just 3" wide x 3.6" tall (7.6 x 9.1 cm), each flat pouch features a squeeze spring opening for easy loading and unloading of the microphone and coiled cable. Snapped shut the contents are safe inside, with the coiled cable held in place, ready for quick retrieval when needed.
Every pouch has a faux leather front and a clear vinyl back to instantly view contents.
A tab area at the top lets users slip in a preprinted ID label or handwrite across the white-backed area.
Stingray Lav Pouches fit most popular lavaliere mics. They are available in packs of three and list for $20.
For more information about K-Tek visit www.ktekpro.com
##
Information Prepared by Lewis Communications: susan@lewiscommunications.net
For Additional News and Photos visit aboutthegear.com