News Release
DoPchoice GmbH
Danklstr. 4 · 81371 München · Germany
Phone: +49 89 95449293 · Fax: +49 89 17927731
info@dopchoice.com
www.dopchoice.com
Effective: February 7, 2018
DoPchoice Delivers Versatile New Lantern Snapbag®
To Download Below Photo in High Res Click Here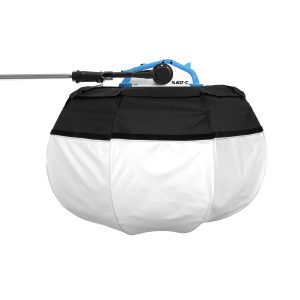 DoPchoice introduces the newest addition to their Snapbag® line of quick setup lighting softeners. This versatile Lantern can act as a traditional lantern, China Ball, or a conventional soft box and has the agility to be used with a wide choice of LED lighting fixtures. The only lantern-type soft box that lets users simply change the depth of the sphere at will, it can be fully expanded like a traditional lantern or contracted shallower for use in tighter spots.
When hung overhead or on a boom from above, the three-foot (100cm) diameter Lantern creates a large soft source to use as a space light. In low ceiling applications the depth of the Lantern can be reduced to keep it out of the shot. As a soft key light, the circular Lantern provides a pleasant round eye reflection.
Mounting to a variety of fixtures is quick, thanks to the DoPchoice's exclusive, no hassle RABBIT-EARS® mounting system (sold separately). Because it utilizes Rabbit-Ears attachment, a Lantern can be deployed in a matter of seconds, without the difficulties and weight of old fashioned systems. DoPchoice Mini and Rectangular Rabbit-Ears models fit a wide variety of LED light fixture makers, including ARRI, BB&S Lighting, Cineo, Creamsource, Kino Flo, Litepanels, Lupo and Velvet.
For added control, DoPchoice offers a customized, removable Lantern Skirt that cuts spillage and enhances creative light directing. Thanks to 4 zip-up sides users can focus output more intentionally to shape and control output.
The SnapBag Lantern weighs just 4.4 pounds (2 kg) and folds into in a low profile soft bag, ready for the next job. Now available through top lighting dealers worldwide, the SnapBag Lantern SBRL3 has an MSRP of $600. An informative video demo can be viewed at https://www.youtube.com/watch?v=MV0I1ZISI5I or visit www.dopchoice.com/product/sbrl3/
The New SnapBag Lantern will be on display at the AFC Micro Salon Show in Paris February 9-10 with K5600 and Maluna Lighting, and NAB Booth C8547 with The Rag Place.
###
Information Prepared by Lewis Communications: susan@lewiscommunications.net
For Additional News and Photos visit aboutthegear.com