NEWS RELEASE
SmallHD
www.smallhd.com
Effective: May 1, 2019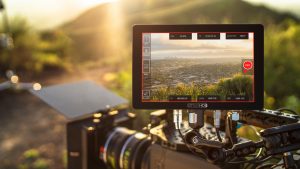 SmallHD is celebrating the delivery of the new Cine 7 family of 7-inch full HD touchscreen on-camera monitors with cinema camera control and built-in Teradek wireless video technology with a special, limited time offer. Purchases made by May 19, 2019, (through SmallHD or authorized dealers), will be eligible for a free ARRI Camera Control License valued at $500.
This powerful new monitor platform provides a stunning 1080p, daylight viewable 1,800 nit display that offers 100% coverage of the DCI-P3 color gamut. It also offers seamless integration of cinema camera control, allowing users to manage a variety of camera settings right from the SmallHD software interface. The Cine 7 monitors interface with the camera using the included Ethernet to locking 10-pin camera control cable. The optional Software license supports ARRI ALEXA Mini, AMIRA, and Mini LF cameras.
Camera control via the Cine 7 interface solves a number of production issues. The ARRI ALEXA Mini and AMIRA provide viewing of camera controls only through the electronic viewfinder. The Cine 7 wireless video transmission function can become an essential tool when the camera is mounted on a Steadicam, on a camera car, or other specialty rigging.
Cine 7 is available in 4 different varieties, including 3 wireless models with built-in Teradek Bolt technology (500 TX, 500 RX, and SK RX), and a non-wireless base model. Each supports cinema camera control.
URLs
Link to receive promotional coupon code: arricoupon.smallhd.com
Link to purchase ARRI Camera Control: www.smallhd.com/cinecontrol
Link to Shop SmallHD Cine 7 www.smallhd.com/cine7
###
About SmallHD
Founded in 2009, SmallHD has made a name as the leading innovator of on-camera monitoring solutions for professional cinematographers, videographers, and photographers worldwide. Creators of the world's first high definition on-camera monitor, SmallHD continues to push the envelope of what's possible in an on-camera, studio and production displays. www.smallhd.com
###
About Vitec Creative Solutions
Headquartered in Southern California, USA, Creative Solutions (CS) designs and manufactures premium products for film and video production companies, broadcasters, independent content creators and enterprises. Comprising the brands Teradek, SmallHD, and Wooden Camera CS products are used around the world for film, television, sports, news, live events and online streaming. CS has manufacturing and R&D centers in the US and Israel and our products are available via our global partners and our own websites.
###
A snapshot of The Vitec Group plc
Vitec is a leading global provider of premium branded products and solutions to the fast moving and growing "image capture and content creation" market.
Vitec's customers include broadcasters, independent content creators, photographers and enterprises, and our activities comprise: design, manufacture and distribution of high-performance products and solutions including camera supports, camera mounted electronic accessories, robotic camera systems, prompters, LED lights, mobile power, monitors, bags, motion control and noise reduction equipment.
With approximately 1,800 employees across the world in 13 different countries, the company is organized in three Divisions: Imaging Solutions, Production Solutions and Creative Solutions.
The Vitec Group plc is listed on the London Stock Exchange with 2018 revenue of £385.4 million.
More information can be found at: www.vitecgroup.com
####
For additional photos and other news, please go to aboutthegear.com
Information Prepared by Lewis Communications: susan@lewiscommunications.net