NEWS RELEASE
SmallHD
www.smallhd.com
Effective: May 29, 2019
See them First at Cine Gear Expo Booth 118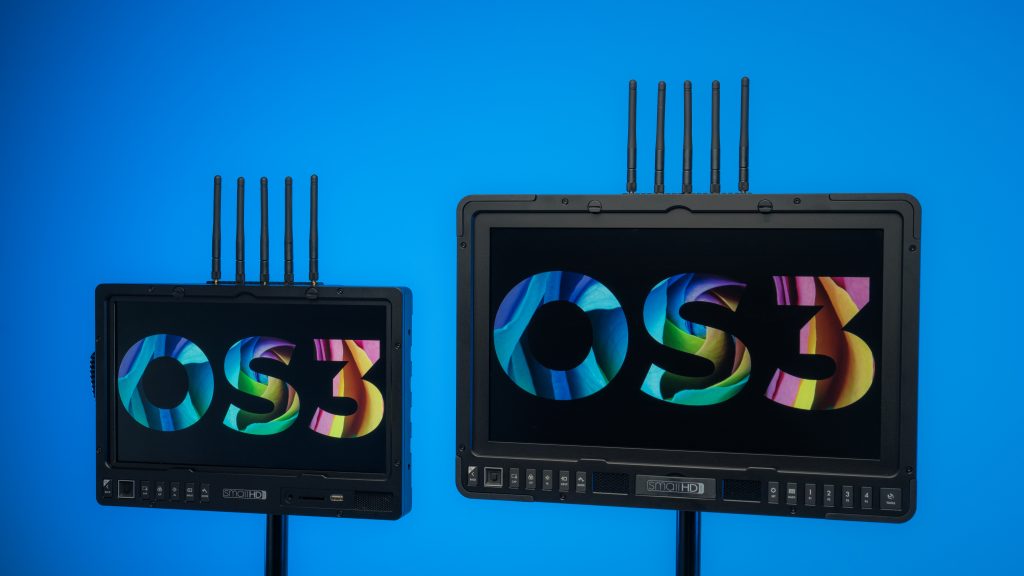 To download a large version of the image, first, click on the image above. Then right-click (Windows) or hold the CTRL key and click (Mac) directly on the image and Save.
After garnering outstanding industry acceptance of their 5-inch and 7-inch on-camera monitors with built-in Teradek receivers, SmallHD adds 13-inch and 17-inch monitors to their wireless connectivity lineup. The 1303 HDR BOLT Sidekick and 1703 P3X BOLT Sidekick provide reception of Full HD video from Teradek 500, 1000, or 3000 Bolt transmitters at distances up to 500 feet line-of-sight.
The 1303 HDR Bolt Sidekick provides a bright, 1500 nit daylight viewable screen with Full HD (1920×1080) resolution. It delivers 10 bit color at 100% of Rec. 709 color gamut, 1150:1 contrast ratio and is HDR capable. With a dense 170 pixel-per-inch display, it is ideal for focus pulling. It measures 13″ (33.02cm) wide by 9″ (22.86cm) high by 2.88″ (7.32cm) thick plus antennas, and weighs 9 lbs (4.1kg).
The 1703P3X Bolt Sidekick delivers 100% DCI-P3 color gamut and 10 bit color depth. The screen is Full HD (1920×1080) at 1000 nit-brightness. It features a 1400:1 contrast ratio, and a pixel density of 133 pixels-per-inch. The rugged monitor measures 17″ (43.18cm) wide by 11.7″ (29.72cm) high by 2.5″ (6.35cm) thick, plus antennas, and weighs 12 lbs (5.4kg).
The new wireless monitors each have 2 SDI inputs, as well as 1 HDMI and 2 SDI outputs. There is zero latency when cross converting from SDI to HDMI. The monitors provide a wide viewing angle of 178 degrees horizontally and vertically, so a number of crew members can view simultaneously. For operating untethered, both monitors can be powered by Gold- or V-mount battery packs, utilizing an optional Battery Pack Adapter. AC powering is also supported.
Designed for quick deployment, SmallHD production monitors instantly fit into any production or post environment, whether mounted table-top, C-stand or cart. These monitors feature rugged milled aluminum chassis. The 17" offers hardened rubber corner bumpers and user-replaceable 3mm-thick screen protectors that drop-in and self-lock, as well as the RapidRail system that provides easy accessory mounting. The 17" also offers an ergonomic carry handle as well as multiple ¼-20 and ⅜-16 threaded mounting options around the frame, ready for whatever users need to add.
Equipped with SmallHD OS3 software, the new monitor/receivers offer quick-customizable professional tools including HD Waveform, Vectorscope, False color and Focus Assist/Peaking, Anamorphic De-squeeze, Framing Guides, and unlimited 3D LUTs via SD card.
New 1303HDR Bolt Sidekick and 1703P3X Bolt Sidekick are available from the global network of SmallHD resellers and partners. For more information or to order online, visit: www.smallhd.com/wireless-production-monitors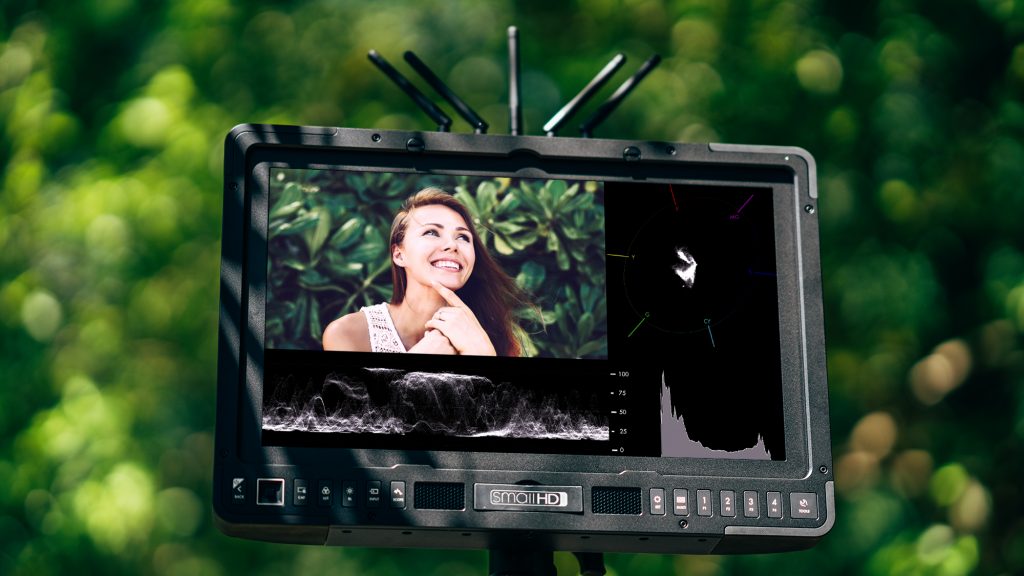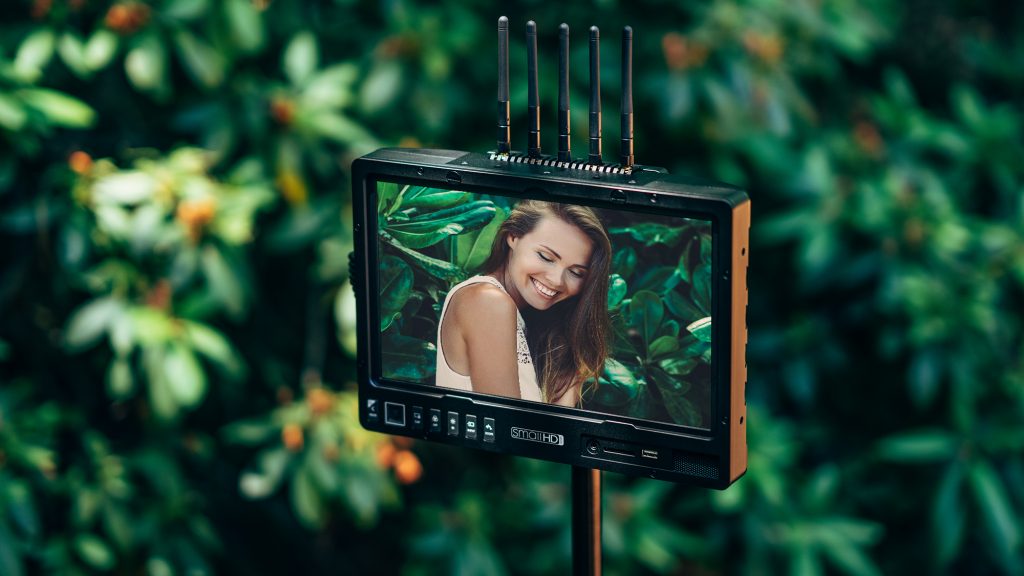 To download a large version of the image, first, click on the image above. Then right-click (Windows) or hold the CTRL key and click (Mac) directly on the image and Save.
Founded in 2009, SmallHD has made a name as the leading innovator of on-camera monitoring solutions for professional cinematographers, videographers, and photographers worldwide. Creators of the world's first high definition on-camera monitor, SmallHD continues to push the envelope of what's possible in an on-camera, studio and production displays. www.smallhd.com
###
About Vitec Creative Solutions
Headquartered in Southern California, USA, Creative Solutions (CS) designs and manufactures premium products for film and video production companies, broadcasters, independent content creators and enterprises. Comprising the brands Teradek, SmallHD, and Wooden Camera CS products are used around the world for film, television, sports, news, live events and online streaming. CS has manufacturing and R&D centers in the US and Israel and our products are available via our global partners and our own websites.
###
A snapshot of The Vitec Group plc
Vitec is a leading global provider of premium branded products and solutions to the fast moving and growing "image capture and content creation" market.
Vitec's customers include broadcasters, independent content creators, photographers and enterprises, and our activities comprise: design, manufacture and distribution of high-performance products and solutions including camera supports, camera mounted electronic accessories, robotic camera systems, prompters, LED lights, mobile power, monitors, bags, motion control and noise reduction equipment.
With approximately 1,800 employees across the world in 13 different countries, the company is organized in three Divisions: Imaging Solutions, Production Solutions and Creative Solutions.
The Vitec Group plc is listed on the London Stock Exchange with 2018 revenue of £385.4 million.
More information can be found at: http://www.vitecgroup.com
###
For additional photos and other news, please go to www.aboutthegear.com
Information Prepared by Lewis Communications: susan@lewiscommunications.net