NAB, Las Vegas, Booth C5725
NEWS RELEASE
Teradek
www.teradek.com
Effective: April 8, 2019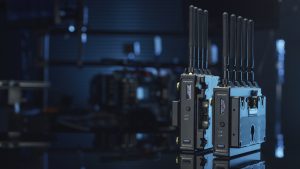 Teradek announced today the revolutionary Bolt 4K, defining a whole new category of wireless video systems. The groundbreaking technology, found exclusively inside Bolt 4K, offers 8x the reliability of previous HD models, 1.5x more range, and superior image quality.
Bolt 4K is the first 4K HDR wireless video system providing uncompressed, zero-latency (<1ms) transmission. Unique to Bolt 4K is interoperability, allowing any model range to transmit and receive from the other (i.e. a Bolt 4K 750 is compatible with a Bolt 4K 1500).
Bolt 4K transmits 10-bit, 4:2:2 HDR video at a range of up to 1,500 feet line-of-sight over the unlicensed 5GHz band, and can multicast to 6 receivers simultaneously. For HDR workflows, Bolt 4K supports the HDR-10, PQ, and HLG standards and can transport extended camera metadata, timecode, and record triggers over the wireless link.
Like Teradek's existing Bolt devices, Bolt 4K offers the industry's best protection against prying eyes with AES-256 encryption and RSA 1024 key pairing. Combined, these two technologies ensure nobody can decrypt your wireless feed or connect another receiver to your system without explicit authorization.
To further simplify the use of wireless video on set, Teardek launched a free iOS application to manage and monitor every parameter of Bolt 4K in real-time, from the convenience of a smartphone. Simply connect to Bolt 4K via Bluetooth to manage transmitter/receiver pairing, wireless channel selection, and the application of 3D LUTs. The app also offers a real-time quality and range analyzer to determine the best transmission distance for a given area as well as the popular 5GHz spectrum analyzer to detect congestion on specific channels.
Bolt 4K will begin shipping June 2019 for $3,990 (Bolt 4K 750) and $7,990 (Bolt 4k 1500). For more information visit: 4k.teradek.com
###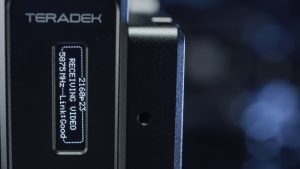 About Teradek
Teradek designs and manufactures high performance video solutions for broadcast, cinema, and general imaging applications. From wireless monitoring, color correction, and lens control, to live streaming, SaaS solutions, and IP video distribution, Teradek technology is used around the world by professionals and amateurs alike to capture and share compelling content.
###
About Creative Solutions
Creative Solutions, a division of the Vitec Group plc, is comprised of several businesses that design and manufacture premium products for broadcasters, film and video production companies, and independent content creators. Manufacturers include Teradek, SmallHD, and Wooden Camera, as well as the former businesses of Amimon, RT Motion, Offhollywood, and Paralinx.
About Vitec Creative Solutions
Headquartered in Southern California, USA, Creative Solutions (CS) designs and manufactures premium products for film and video production companies, broadcasters, independent content creators and enterprises. Comprising the brands Teradek, SmallHD, and Wooden Camera CS products are used around the world for film, television, sports, news, live events and online streaming. CS has manufacturing and R&D centers in the US and Israel and our products are available via our global partners and our own websites.
###
A snapshot of The Vitec Group plc
Vitec is a leading global provider of premium branded products and solutions to the fast moving and growing "image capture and content creation" market.
Vitec's customers include broadcasters, independent content creators, photographers and enterprises, and our activities comprise: design, manufacture and distribution of high-performance products and solutions including camera supports, camera mounted electronic accessories, robotic camera systems, prompters, LED lights, mobile power, monitors, bags, motion control and noise reduction equipment.
With approximately 1,800 employees across the world in 13 different countries, the company is organized in three Divisions: Imaging Solutions, Production Solutions and Creative Solutions.
The Vitec Group plc is listed on the London Stock Exchange with 2018 revenue of £385.4 million.
More information can be found at: www.vitecgroup.com
###