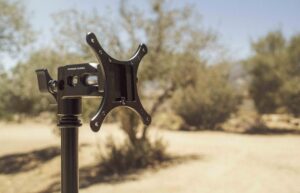 July, 29, 2021 (Dallas, TX) — Wooden Camera, the Dallas-based designer and manufacturer of professional camera accessories, is now shipping the Ultra QR Articulating Monitor Mount, a quick-release solution designed to support up to 45 pounds and easily integrate with select SmallHD production monitors.
"We're excited for filmmakers to see just how versatile it is," says Dominick Aiello, Senior Director of Accessories at Creative Solutions. "From natively supported, lightweight, SmallHD monitors to hefty 45-pounders, this rugged, reliable mount can handle it all."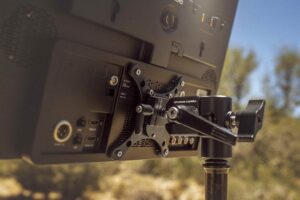 Compatible with most production monitors, this Ultra QR accessory mounts via the 75mm or 100mm VESA Hole Standard or an ARCA Swiss Rail. It attaches to any 5/8" male baby pin system. The ARCA Swiss dovetail clamp quick-release offers a perfect fit for SmallHD Monitors with the ARCA Swiss rail including the OLED 22, CINE 24, VISION 17, VISION 24 and CINE 13 monitors.
The friction-ball system allows a wide range of articulation and quick adjustments, without having to completely loosen the ratchet handle. Users simply tighten the handle once they find a preferred position and the mount provides a reliable hold.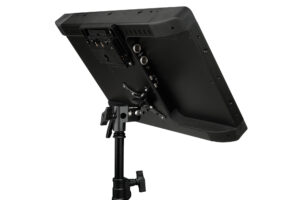 One 3/8″-20 and two 1/4″-20 mounting points are located on the top of the mount for adding articulating arms, video receivers, or other accessories.
Aiello continues, "Everyone has a different style, and their rig reflects that. We designed this mount to disappear into your workflow so you can focus on creating instead of compatibility or reliability issues."
The Ultra Quick Release Articulating Monitor Mount is available at both WoodenCamera.com and SmallHD.com
To learn more about the Ultra QR Articulating Monitor Mount, please visit:
https://link.cs.inc/ultraqrlaunchpr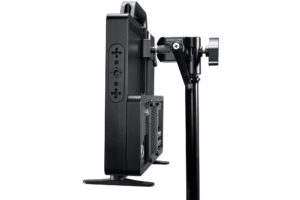 ABOUT WOODEN CAMERA
Based in Dallas, Texas, Wooden Camera is part of The Vitec Group's Creative Solutions division and are creators of professional camera support accessories for film and video production. Wooden Camera also has a retail location in Burbank, California, which serves the local film industry.
www.woodencamera.com
www.instagram.com/woodencamera
www.twitter.com/woodencamera
www.facebook.com/woodencameraaccessories
www.youtube.com/c/WoodenCameraAccessories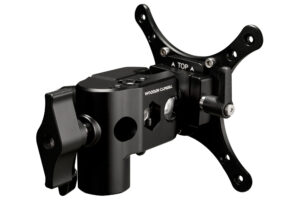 ABOUT VITEC CREATIVE SOLUTIONS
Headquartered in Southern California, USA, Creative Solutions Division, Inc. (CS) designs and manufactures premium cinema and broadcasting technologies used by production professionals in film, television, news, sports, live events, online streaming, and other media enterprises. A subdivision of The Vitec Group, CS is composed of Teradek, SmallHD, Wooden Camera and Lightstream whose products are available via branded websites and professional partners around the globe. More information can be found at www.cs.inc
###
For Inquiries, please contact [email protected]