NEWS RELEASE
Schneider Optics
7701 Haskell Avenue
Van Nuys, CA 91406
Phone: 818-766-3715
Fax: 818-505-9865
www.schneideroptics.com
Effective: October 19, 2016
Bakewell Pairs Schneider Xenon FF-Primes and Panasonic VariCam LT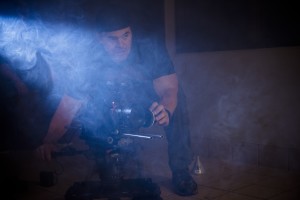 Richard Bakewell, best known for his camerawork on such television shows as Cops and Intervention, recently penned his second film. To create a proof-of-concept and short film based on an 80's throwback horror-genre feature-length screenplay Postpartum, he took the helm as Director and Executive Producer.
Bakewell needed a versatile shooting package. His first decision was to go 4K and to use the Panasonic VariCam LT and Xenon FF-Primes by Schneider Kreuznach.
"In my book, the Panasonic VariCam LT, is right up there with the Alexa—and for a quarter of the cost," Bakewell asserts. During pre-prep, Dan McCoy of ToneMesa introduced me to the Schneider glass. The Panasonic Varicam LT and the Xenon FF-Prime lenses proved to be a spot-on partnership."
"When I first took the Schneider Xenon FF-Primes out of the box, I noticed right away the rugged design of the housings," offers Bakewell. After testing he found that "the look of the Xenons is similar to the Cooke Panchros, but at a much more reasonable cost."
To Bakewell, "the imperial markings are an essential part of a lens," so he appreciates the large, clear engravings on the Schneider FF-Primes. "I love the lens rotation and the bokeh is beautiful. Another benefit of the Xenons is that each lens is identical in size. Knowing that we were going to be pressed for time and shooting a lot of Steadicam work, it was crucial that we didn't have to keep readjusting the rig."
Bakewell and his First AC Haisa Lalic found the FF-Primes to be just the ticket for the ending scene's extreme close-up. "Postpartum ends the way it begins with the main character Alice [played by Jenny Curtis] being interrogated by a detective," Bakewell explains. "The very last shot of the film was going to be death of Lalic. We had 16-feet of dolly track for a sequence where we started with a medium two-shot of Alice and the detective, and then landed on an extreme close-up of Alice– all shot with the 100mm Xenon FF-Prime. I found that the sweet spot of the lenses was at an f/4/5.6 and between three to five feet distance from the subject. The charm of the Xenons is that there is a good margin of wiggle-room even when focus is a tad off. I noticed that when the focus rocked soft from her eyelashes and then back to her eyes, the 100mm was so forgiving at f/4/5.6 that nearly all the takes were flawless."
Bakewell's previous directing credits include the feature film Officer Down, Before I Die, as well as episodes of Welcome to Sweetie Pie's and Rica Famosa Latina. Postpartum stars Danielle Harris as Nurse Regan, and Jenny Curtis as, Alice Westcott. Set to premiere on October 29 for Halloween weekend, Bakewell expects it to be touring festivals by year-end.
For additional information on Xenon FF-Primes or other products from Schneider Optics, call 818-766-3715, or visit www.schneideroptics.com
###
Information Prepared by Lewis Communications: susan@lewiscommunications.net
For additional photos or other Schneider Optics news please visit aboutthegear.com