For Higher Res Click on Photos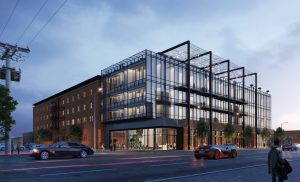 CHICAGO, ILLINOIS—September 6, 2019 – Production is booming in Chicago, and PRG, the global leader in entertainment and event production solutions, is about to expand with a new camera prep facility conveniently situated in the Douglas Park area, adjacent to the CineSpace Chicago Film Studios lot, where PRG supplies several of network television's highest rated episodic series.
PRG acquired VER in August 2018, including its VER Camera division, known for industry-leading expertise and inventory in digital cinema and broadcast cameras, lenses and accessories. The combined service offering of the two brands is the most comprehensive and technologically advanced in the film, television and broadcast markets today.
Located on the west side of downtown Chicago, the new location is poised to become the major Midwest production hub. "It's a great match for PRG's experienced support of film, scripted and unscripted television, sports, music, special events and live broadcast production, says Andrea Berry, SVP and General Manager of Broadcast & Television at PRG. "Building this new facility in such a prime area shows our whole-hearted commitment to the growth of the Chicago cine/broadcast media market."
Slated to open in the Fall of 2019, the new 10,000 plus square foot facility, located at 1414 South Western Avenue, will offer 6 fully equipped camera prep bays and production offices. The contemporary wood and brick interior will feature an industrial warehouse-chic design.
PRG clients will have access to the world's largest inventory of professional digital cinema, large format, and television broadcast cameras, lenses, and support gear. Most importantly PRG's skilled technicians know the ins and outs of coordinating cine and broadcast style production packages, LED walls for Enhanced Environments, and 35Live! production packs to solve common and unique shooting challenges.
A convenient ground floor loading dock will provide drive-up pickup. Or visitors can use the ample on-premises parking.
"It is great to be so close to a major studio lot", says Carl Cook, VP, Television & Film at PRG. "Beyond that we hope that our easy accessibility will help us serve the diverse requirements of the Chicago production landscape."
The new Chicago facility opens this fall at: 1414 Western Avenue, Suite 3E, Chicago IL, www.prg.com. To see what PRG and VER Camera bring to Chicago, contact Caroline Doubek at Caroline.Doubek@prg.com.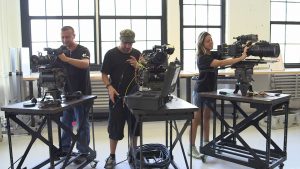 ###
About Production Resource Group
PRG is the world's leading provider of entertainment and event technology solutions and has the largest inventory of rental production equipment. PRG provides comprehensive and discreet services to an array of clients in the live music, TV/Film, Broadway, sports, gaming, corporate experiential and live events markets. Clients and partners depend on PRG's innovation, experience and depth of experience in audio, video, lighting, rigging, staging, and scenery and automation systems to bring their stories to life. With 70 offices across North America, South America, Europe, Middle East, Asia, and Australia, PRG has capabilities to provide services worldwide. PRG is owned by The Jordan Company, GSO Capital Partners and PRG Management. For more information, please visit https://www.prg.com/
###
Information prepared by Lewis Communications: press@lewiscommunications.net.
For additional photos and more news visit www.aboutthegear.com.