For Higher Res Click on Photos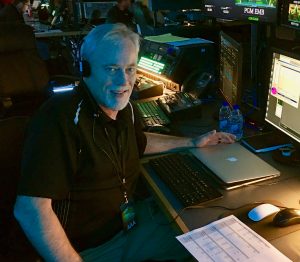 LOS ANGELES – November 19, 2019 – Production Resource Group LLC (PRG), the world's leading provider of entertainment and event technology solutions, announces that Greg Blanton joins the group as Director of Media Workflow and Content Solutions. With an extensive background in broadcast engineering and live event systems integration, Blanton joins the expertise of PRG's worldwide broadcast engineering team to help meet the challenges of live-event and broadcast production asset-based workflows.
Blanton has a proven track record in bringing together solutions that help clients protect assets, maximize effectiveness, and increase creativity, while offering support to overcome the technical demands of working with today's media assets locally, across the nation, and across the continents.
Today's powerful range of production and media workflow offerings bring wide diversity in available products, tools and services. Creating valuable assets from volumes of raw content requires planning. Blanton explains, "Successful solutions built to protect the on-air systems, while meeting the challenging production goals and demands requires a strong and well-coordinated team. PRG's worldwide presence, unsurpassed capabilities and expert team are the ideal combination to navigate the technical waters to achieve client success."
Greg Blanton can be reached at greg.blanton@prg.com or www.prg.com.
About Production Resource Group
PRG is the world's leading provider of entertainment and event technology solutions and has the largest inventory of rental production equipment. PRG provides comprehensive and discreet services to an array of clients in the live music, TV/Film, Broadway, sports, gaming, corporate experiential and live events markets. Clients and partners depend on PRG's innovation, experience and depth of experience in audio, video, lighting, rigging, staging, and scenery and automation systems to bring their stories to life. With 70 offices across North America, South America, Europe, Middle East, Asia, and Australia, PRG has capabilities to provide services worldwide. PRG is owned by The Jordan Company and GSO Capital Partners and PRG Management. For more information, please visit https://www.prg.com/