User Report
Bebob
Munich, Germany
www.bebob.tv
Effective: August 21, 2019

For Higher Res Click on Photos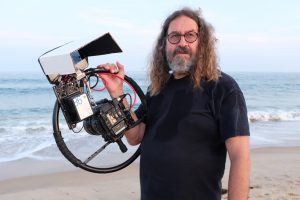 When it comes to the moving camera, few can challenge the finesse of Dan Kneece. His resume reads like a Who's Who of high-powered films from his legendary Steadicam work throughout the 1980s and '90s to his dynamic cinematography today.
Recently for an Untitled Rhode Island Project, directed by Michelle Salcedo, Kneece had the opportunity to try out new solutions to power the camera rig through its moves along the sandy Rhode Island shore.
To help "fly" the Canon ME20FSH 4.5 million ISO camera for a pivotal sequence, he opted for the simple versatility of the Fig Rig. To monitor and record, he mounted it with an Odyssey 7Q. To power both camera and monitor simultaneously, he chose bebob Micro Lithium-Ion batteries.
He had tested the bebob A45micro, A98micro and A150micro in LA where he was impressed with their compact size, onboard light, capacity and light weight. Now he had a chance to put them through their paces where it mattered, under the daily realities of life on location where there's heat, humidity, and salty breezes carrying sand and sea mist. Not to mention negotiating a foothold in the sand while balancing the rig, take after take. That's where the reduced profile and weight of the bebob Micros came in handy. He mainly used the Amicro 45Wh (11.6-oz/0.33kg) and the Amicro 98Wh (19.4-oz/0.55kg). "The lighter weight of the batteries was a big advantage, he says, "The 45 lasted 52 minutes at a 2 Amp draw powering both the camera and monitor/recorder. I did change batteries, but not often as I am used to —they last a long time."
How did the bebob Micros hold up under the July New England conditions? "They worked flawlessly", Kneece concludes, "The bebob batteries and chargers worked without any complications— they are very reliable and straightforward.
The feature, produced by Piel Canela Pictures is now in post production with plans to complete it for summer, 2020.
For more information or to find a local dealer visit www.bebob.tv
Known for innovative power solutions and camera accessories for over 20 years, bebob's German-made quality is built into their full line of batteries. Tens of thousands of bebob batteries and chargers are currently in use at film and TV studios all over the world. The company's production process always meets the highest quality standards – be it in bebob's own factory or at selected suppliers in the Munich area. Their product portfolio includes V-Mount and Gold Mount compatible batteries, newly introduced B-Mount batteries, Micro batteries, Chargers, Adapters, Hot Swap Adapters, and more. bebob's groundbreaking technical solutions include the rugged yet space-saving Vmicro and Amicro batteries, and the CUBE 1200, a Multi-Voltage Li-Ion battery with an extraordinary power capacity of 1176Wh and built-in charger. Over the years bebob continues to introduce features that set standards in the industry, including virtually unbreakable batteries, replaceable cells, Twist D-Tap, CINE V-Mount and more.