NEWS RELEASE
Cine Gear Expo
T: 310-472-0809
www.cinegearexpo.com
Effective: May 13, 2016
Cine Gear Expo to Screen Woody Allen's Café Society and More
Hollywood, California, May 13, 2016—Cine Gear Expo pulls out all the stops to share the latest art and craft of filmmaking. This year's event, being held at Paramount Studios June 2-4, 2016 offers a full schedule with screenings and panel discussions of coveted feature films, plus Film Competition Finalist showings of Student Shorts, Independent Shorts, and Commercials/Music Videos.
Thursday, June 2nd, kicks off the Cine Gear competition finalist screenings in Paramount's Sherry Lansing Theatre. Winners in each category will receive an Ursa Mini 4.6K from Blackmagic Design at the awards presentation on Friday evening. Screening tickets may be purchased individually or via a Film Series Pass for all screenings for $25 at: http://www.cinegearexpo.com/la-expo-passes-and-tickets
The festivities start Thursday, June 2, with the Independent Short Finalists at noon until 1:45 pm (tickets $10):
Flex, Director Jordan Bahat
Stars, Director Krista Vernoff
Damage Control, Director Samuel Bartlett
Catch, Director Jeremy Glaholt
Code Blue: A Love Story, Director Susan Dynner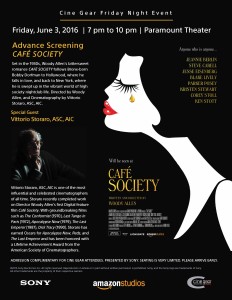 Kingsland, Director Jake Gabbay
Evelyn, Director Farzad Ostovarzadeh
Pilgrim, Directors Michael Alden Lloyd, Matthew Fisher
Next up at 2:15-2:45 pm are the Commercials/Music Video Finalists (tickets $7):
Heave Away (aka The Scrimshaw Blues) by Blackwater Jukebox, Director Jorge Olortegui
Oakley "Time Bomb", Director Jeff Jingle
The Power Of One, Director Michael Delorenzo
Freedom, by The Integritas Project, Director Patrick Finnegan
My Friend Sin, Director Mike Sanchez
Fool Proof, Director Ryan Postas
Something in the Water, Director Alejandro Lalinde
Isn't Enough by The Integritas Project, Director Patrick Finnegan
That same day Student Short Finalists show at 3:15-5:25 pm (tickets $10):
Starman, Director Josema Roig / School: AFI
Breathe, Director Paul Kowalski / School: American Film Institute (AFI) Conservatory
At Ease, Director Jacob Kirby / School: Savannah College of Art and Design
This Way Up, Director Jeremy Cloe / School: AFI
[solitary], Director Derek J. Pastuszek / School: American Film Institute Conservatory
Pete the Pilot, Director Dontae Carter / School: College of Southern Nevada
Fata Morgana, Director Amelie Wen / School: American Film Institute
At 7pm Friday evening June 3, Sony presents an exclusive special screening of Woody Allen's soon-to-be-released Café Society, in the state-of-the-art Paramount Theatre. The bittersweet romance set in the 1930's follows Bronx-born Bobby Dorfman to Hollywood where he falls in love, and back to New York where he is swept up in the vibrant world of high society nightclub life. After the screening there's a must-see Exclusive Q & A discussion including three-time Academy Award-winner Vittorio Storaro ASC, AIC.
Saturday evening June 4, at 6pm, promises to be another full-house when Sony presents a Special Screening of Mysteries of China. From Giant Screen Films (GSF), this feast for the eyes is a dramatic tour of an ancient empire, that will launch on October 7, 2016 in IMAX© and museum cinemas worldwide. Through the lens of one of the great archaeological events of the modern age, the discovery of the Terracotta Warriors and the First Emperor's Tomb, Mysteries of China reveals the underlying story of how this world superpower came to be. Following the screening there will be an exclusive Q&A discussion with the filmmakers including director and producer Keith Melton and director of photography Reed Smoot, ASC, who bring unique perspectives to the needs of the largest cinema screens.
Free to registered attendees, Special Film Screenings are subject to availability so Cine Gear encourages early arrival for the first come first serve events.
On June 4 and 5, visitors are also invited to attend a complimentary series of seminars and panel discussions conducted by esteemed equipment makers such as Arri, Sony, Panasonic, Blackmagic and Canon, as well as distinguished members industry associations including: American Society of Cinematographers, International Cinematographers Guild, and the Society of Camera Operators. Visit http://www.cinegearexpo.com/la-expo-premier-series for the schedule.
Gold or Silver all-access passes for guaranteed priority seating at Premier seminars and Screenings may be purchased at http://www.cinegearexpo.com/la-expo-passes-and-tickets. For Additional information, directions, and Free Cine Gear registration open until Midnight PDT, May 27, 2016, visit www.cinegearexpo.com
###
###
Information prepared by Lewis Communiations: susan@lewiscommunications.net
For Additional News and Photos visit aboutthegear.com