NEWS RELEASE
K-Tek
1384-F Poinsettia Ave
Vista, CA 92081
Ph. 760-727-0593
www.ktekpro.com
Effective: June 13, 2016
Sound Mixer Farr Finds K-Tek Stingray a Sound Solution
Scott Farr, CAS, www.farroutsound.com is one of the busiest and most sought after production sound mixers in Southern California. So he's quite familiar with the rigors of carrying his audio kit over a long day of work. "The trick", he explains "is how to best carry the weight in the front, and distribute it evenly so you don't tear up your back, while keeping your shoulders free. And you have to be able to easily interface with your equipment."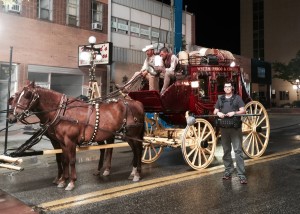 Farr was one of the first to use the K-Tek www.ktekpro.com new Stingray Harness, designed specifically for carrying and working with front-mounted audio bags filled with equipment. "I shied away from really heavy loads for several years, because I felt like the stuff on the market really wasn't addressing those issues properly. But the newly designed K-Tek audio harness incorporates a rigid structure they call the ExoSpine, which does a better job of distributing the load."
On an NFL Films assignment, he was able to test the harness' capability. "We were following a high school football team. All the kids and coaches wore mics, and two crews followed them everywhere they went. We carried a ton of equipment out in the sun all day. It was hot, humid, and miserable. But at the end of the day, when I took everything off, I definitely was tired, but I didn't feel like I'd been beaten up.
"I think the Stingray is better for my back over other harnesses because the K-Tek seems to pull the sound bag tighter to my body and keeps the weight off my shoulders, therefore not pushing down on my back. That combined with a great pair of Hoka Mafate shoes makes for a much better 12-hour day."
Farr carries the Sound Devices 688 with SL6 Combo. "It's a whole new philosophy on a portable mixer, recorder and wireless system because they have it all integrated together. They've really consolidated six or seven different components into one box, which is a really nice. You don't have a lot of weight, bulk, and cables—it just makes the footprint really small." And it's a perfect fit for the K-Tek Large Stingray Audio Bag.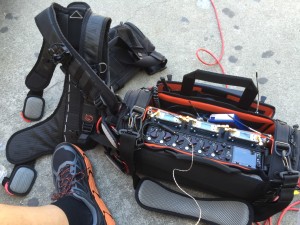 "They designed the Stingray bag to hold the mixer in place, so it doesn't move and all the gear is attached to the recorder within the bag. In the past, with other bags, it was always a challenge because all of those pieces and parts would move and breathe within the bag. If it got upside down, for whatever reason, you spent time putting everything back together. Now everything complements each other so all the components are secured to the main mixer, and the mixer is secured to the Stingray bag, and the bag is secured to you, by the Harness. You become sort of one-entity with all of the devices and nothing's moving around.
"That's nice, especially if you're in a rugged environment, hiking, climbing, whatever. I work on a lot of training and safety videos for the government in dangerous environments like aircraft carriers, boats in rough oceans and things like that. Keeping everything safe and secure and accessible is a priority. So for me the Stingray Harness and Bag are a great advancement for the work that I do."
###
For further information, contact: K-Tek, 1384-F Poinsettia Ave., Vista, CA  92081; Phone 760-727-0593; Fax 760-727-0693; www.ktekpro.com
####
Information Prepared by Lewis Communications: [email protected]
For Additional News and Photos visit aboutthegear.com