NEWS RELEASE
SmallHD
www.smallhd.com
Effective: Sept 12, 2019
IBC – Amsterdam, Netherlands – Booth 12.E65

For Higher Res Click on Photos

To download a large version of the image, first, click on the image above. Then right-click (Windows) or hold the CTRL key and click (Mac) directly on the image and Save.
SmallHD today announced two lines of new 4K monitors under the family name Small4K: the HDR Vision Series and the Cine Series. Both lines will be available in 13", 17", and 24" sizes.
Small4K monitors are built around state-of-the-art 4K panels, representing a significant leap forward for critical viewing of on-set images. Both the Vision and Cine Series monitors are housed in elegant milled-aluminum chassis and are outfitted with a versatile array of power and video interfaces — including 4x separate 12G-SDI inputs with loop-out.
"For years, content creators have been shooting in 4K HDR, color-grading in 4K HDR, and watching 4K HDR at home on their televisions," said Greg Smokler, Head of Cine Products for Creative Solutions. "We believe the Small4K Cine and Vision series will allow filmmakers to finally start monitoring in 4K and HDR on their sets."
The ultra-accurate Small4K Vision Series features everything available on the Cine Series, but raises the bar even further — making true 4K HDR monitoring a reality on set. The Vision Series monitors are reference-grade and feature a 1000 nit display with a 1,000,000:1 contrast ratio. This capability is made possible by a custom-designed Full-Array backlight with over 2000 zones, which offers superb contrast and precise HDR performance. Vision Series monitors cover 114% of the DCI-P3 color space, are fully calibratable, and offer advanced exposure tools for accurate control of HDR cinematography.
The Small4K Cine Series expands on the Cine Series lineup that began with the SmallHD Cine7 on-board monitor. The Cine Series monitors are full-featured, with a deep assortment of power, video, and data communication ports. They have beautiful and bright screens displaying rich color and sharp detail. The Small4K Cine Series features a fully-revamped release of SmallHD's OS3 operating system, building on SmallHD's intuitive user interface with curated exposure tools and workflows for production functionality.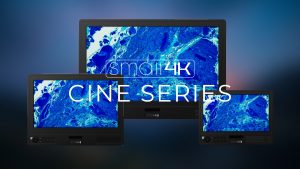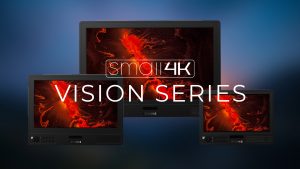 ###
About Creative Solutions
Headquartered in Southern California, Vitec's Creative Solutions Division designs and manufactures premium products for broadcasters, film and video production companies, independent content creators and enterprise businesses. Comprising the brands Teradek, SmallHD, Wooden Camera, and Amimon, Creative Solutions products are used around the world for sports, news, live events, film and television production and online streaming. Creative Solutions has manufacturing and R&D centers in the US, UK, Israel and continental Europe.
###
About SmallHD
Founded in 2009, SmallHD has made a name as the leading innovator of on-camera monitoring solutions for professional cinematographers, videographers, and photographers worldwide. Creators of the world's first high definition on-camera monitor, SmallHD continues to push the envelope of what's possible in an on-camera, studio and production displays. www.smallhd.com
For additional photos and other news, please go to www.aboutthegear.com
Information Prepared by Lewis Communications: susan@lewiscommunications.net